How to Setup PayPal As Your Funnel Payment Gateway
Undeniably, PayPal is still widely used as a payment option for many online merchants due to the trust and security that is protected by PayPal's Buyer Protection. Your checkout form credibility shoots up if you have PayPal as a payment option for your customers.
Let's walkthrough the process on how to setup PayPal as your payment gateway.
Step 1: On your Dropfunnels dashboard left navigation menu, go to Funnels > Payment Gateways.
Step 2: In the available options for Payment Gateways, look for Paypal Gateway. Here you will need BOTH Live & Sandbox keys from your PayPal account to connect.
On both Live & Sandbox Keys, you will need:
(1) Your PayPal Client ID Key
(2) Your PayPal Secret Key
Step 3: Log in to your Paypal account, then click the link below:
https://developer.paypal.com/developer/applications
Step 4: On your Paypal dashboard, go to My Apps and Credentials.
Step 5: Create a Sandbox and Live API for you to use in the integration (Don't forget to put in an APP name when creating your Paypal API for both Sandbox and Live)
Step 6: Locate:
(1) Your PayPal Client ID Key - BOTH Live & Sandbox.
(2) Your PayPal Secret Key - click on "Show Secret Key" to reveal. BOTH Live & Sandbox.
Copy and save the keys on a notepad or your preferred method.
Step 7: Go back to your DropFunnels Payment Gateways page. Copy and paste your Client ID and Secret keys into the relative fields. 
Make sure you enter the keys into the appropriate columns. LIVE keys into the LIVE column, and SANDBOX keys into the SANDBOX column.
Make sure you do not mess up your Client ID & Secret keys too.
Step 8: After you've entered the keys, click "Test Connection" to see if the connection is successful.
If connection is successful, go ahead and click on "Save Paypal Integration".
If the connection is unsuccessful, double check you have entered the correct keys into the correct columns.


How to Enable PayPal on Your Funnel Checkout Page
In order to for you to collect payments from your customers using PayPal, you need to enable PayPal on your Funnel.
Each and every single funnel needs to have it enabled before you can start collecting payments.
Now let's walk through on how to enable it on your funnel.
Go straight to the sales funnel that you want to enable Paypal on the Checkout page.
Step 1: On your funnel's classic view, go to > Payment Integration > Toggle On "Paypal On Checkout Page" as seen below: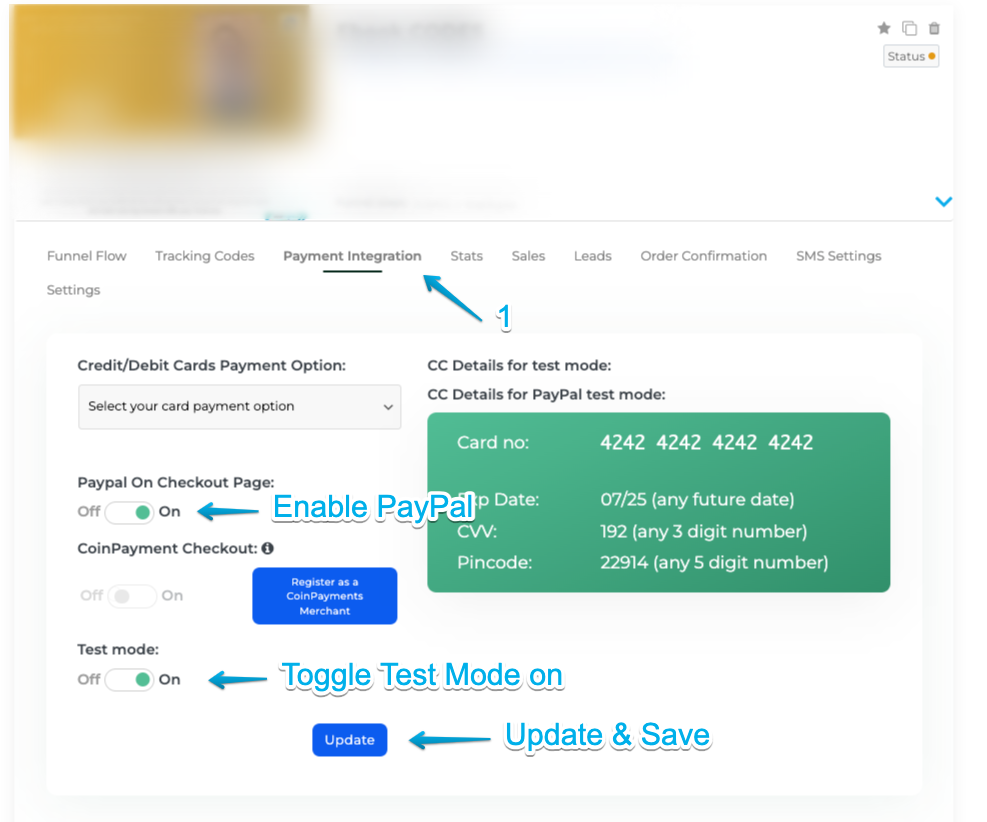 Step 2: If you want to put your funnel on Test Mode to test the payments, toggle on the "Test Mode".
IMPORTANT: Make sure you toggle off test mode after completing the test. Failure to do so will allow visitors to buy your products with a test card.
NOTE: If your PayPal test transactions are not going through, kindly refer to this article HERE.
Step 3: Click "Update". Now your Checkout page will be able to allow customers to check out via PayPal or Debit/Credit Card.