How To Change/Update Your DropFunnels Profile and Billing Info
You may want to update your Profile Name or even update your Billing Information when your card expired, which will lead to billing failure that will deactivate your subscription.
To update your account related info, you can do that from your Account Settings from within your DropFunnels Dashboard.
Login to your DropFunnels account and navigate to Account on the left navigation panel.
You'll see 2 tabs, Profile and Billing.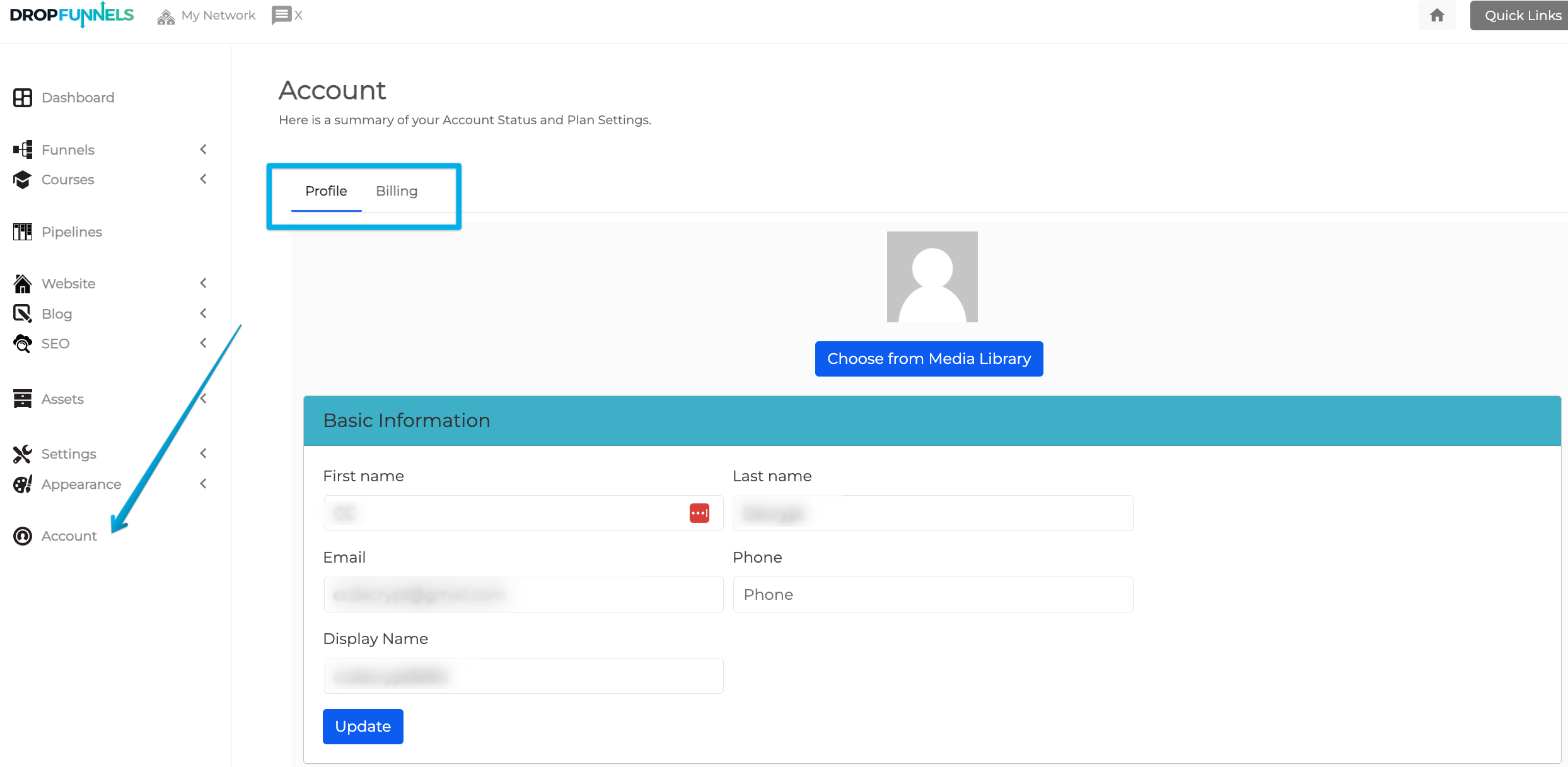 Profile Tab
This tab shows your DropFunnels profile information.
Profile Picture: You can update your profile picture in this area that will show in the upper-right-hand corner. The change in this area does not have any forward-facing effect but it does affect some of your blog posts if you have an administrator icon.
First and Last Name: You can update your name here.
Phone: In case you want to add your phone number, this is the place.
Email: In case you need to update your email, please reach out to support as this can only be updated manually from our back office.
Display Name: Same as your profile picture, this will show on your blog posts when you comment or reply.
If you hasn't specifically set anything as your display name, it will default to your username that is randomly generated when you signed up.
You probably don't want random usernames, especially when DropFunnels provides a way for you to customize your Display Name.
Change Password: Here's where you can change your account password.
Time Zone: Setting of the timezone can be done here which is very important as it will show you the updated information when your sales and leads are coming in. Alternatively, Time Zone can also be configured to your local time from Settings > General Settings.
Billing Tab
This is where you can see billing related stuffs such as:
Subscription Details
Update your Payment Method (to avoid billing failures and account deletion)
Upgrade/Downgrade your DropFunnels Plan
And finally your Billing History of your DropFunnels account (you can download all your past subscription invoices here).