Importing DropFunnels Page Templates or Full Funnel Templates
In DropFunnels, we have a good variety of pre-designed page templates and even Full Funnel templates for you to be able to just drop it into your account, modify the pre-written contents to your business and offer needs, and you'll be good to launch!
Those templates are accessible from:
We will be going through the process for each.
Inside the DropFunnels builder
While you're inside the DropFunnels builder, trying to design a page, you can drop a page template directly into the page.
Step 1: On the top right of the menu bar, click the "+" icon to open up the tool bar
Step 2: Go to the Templates tab
Step 3: Select the type of templates you wish to use. If you're building a Landing Page, go straight to the Landing Page templates and choose from the list of templates available. Sit back and enjoy.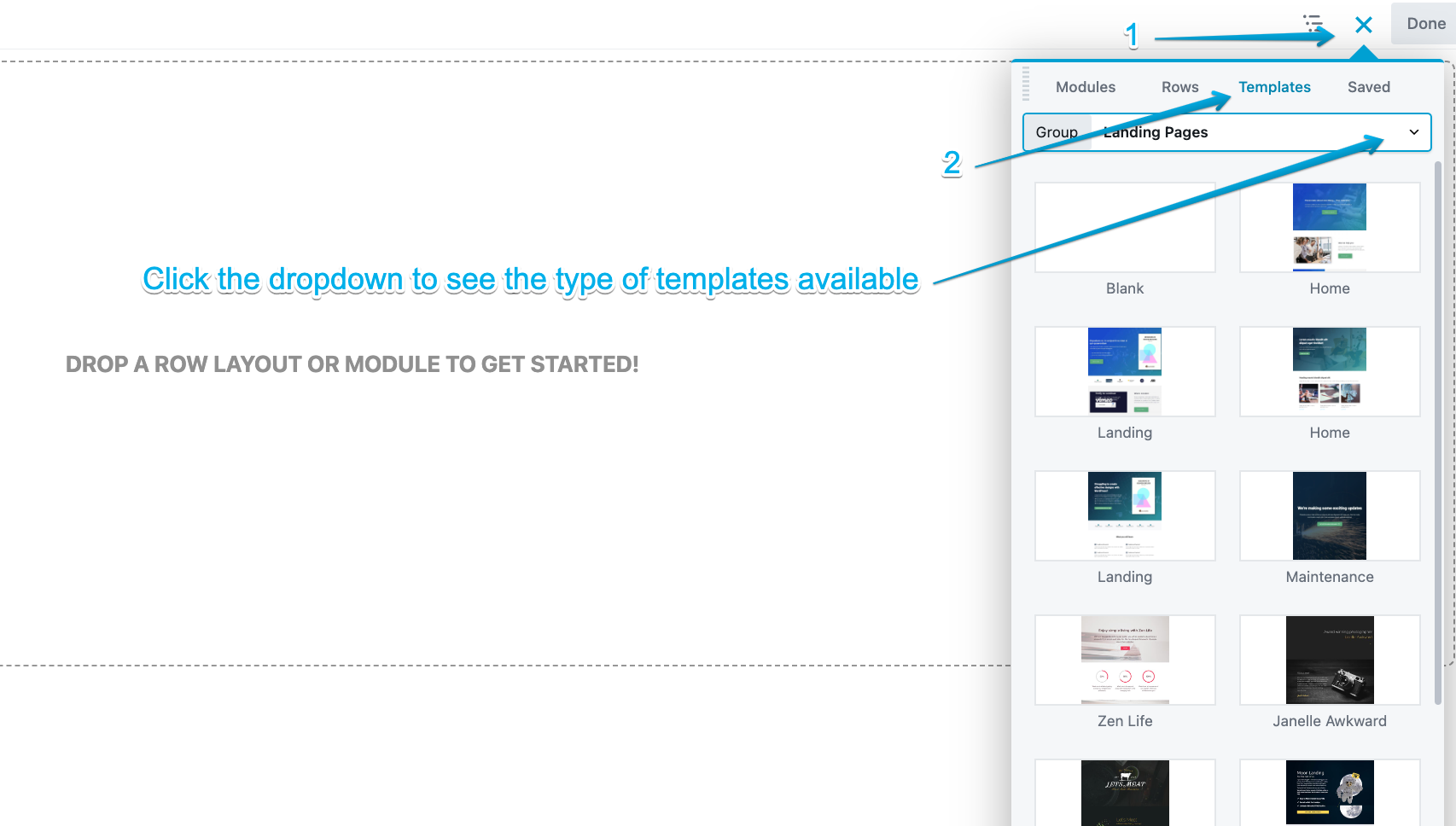 Creating a Brand New Funnel
If you're trying to create a Brand New funnel, you'll be able to drop Single Page Templates or even Full Funnel templates.
To create a new funnel, go to Funnels > Add Funnel as seen in the screenshot below: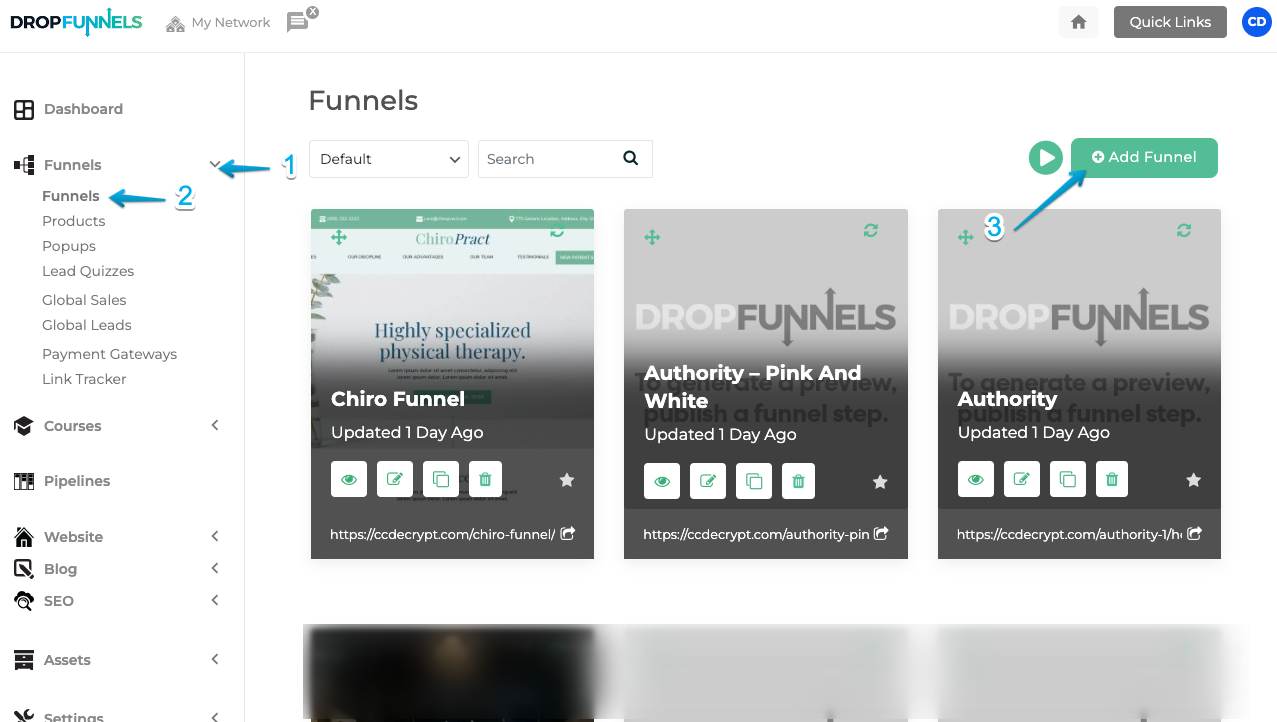 You will then have a popup window like below where you can select either to drop Page Templates, or Full Funnel Templates.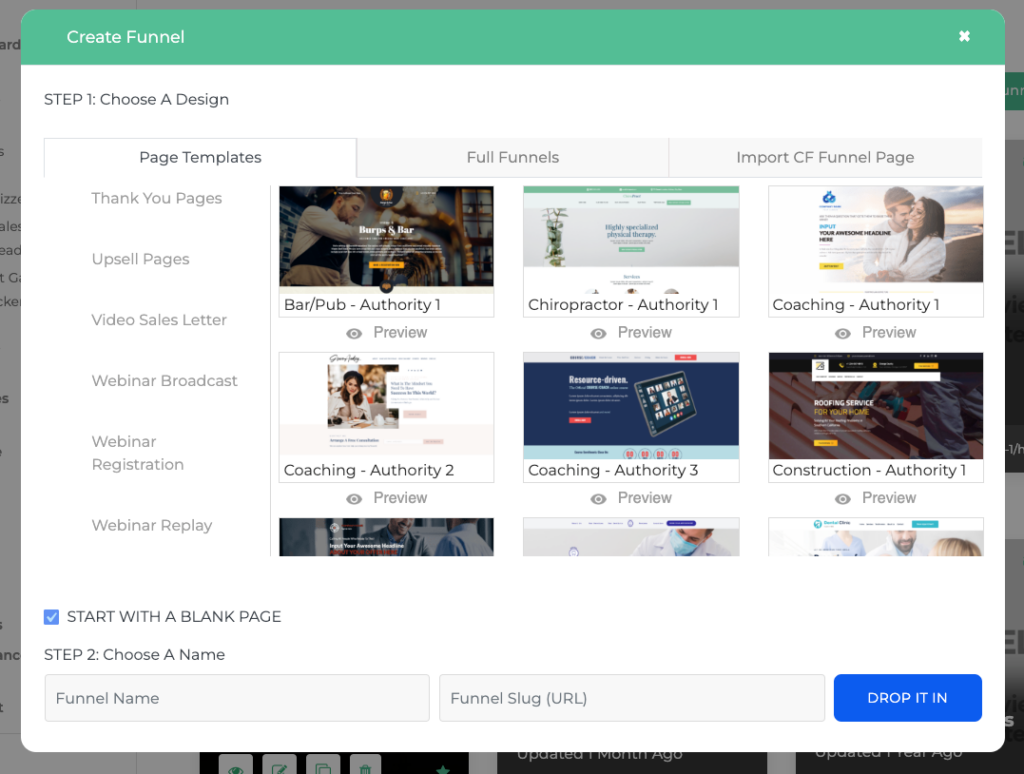 Page Templates (Single Page)
NOTE: Any single page template you selected here will be your FIRST funnel step of your funnel as you are creating a brand new funnel.
For example, if you are starting your brand new funnel with a Lead Generation (Opt-In) page, you will need to look for your templates here under the Page Templates tab. These are Single Page or Funnel Step page templates.
Step 1: Choose a design. Go to the respective category and select from the available list.
Here, we have a good selection of templates for different type of use cases such as:
Authority Pages
Call Booking Pages
Checkout Pages
Coming Soon Pages
Lead Generation Pages
Registration Confirmation Pages
Sales Pages
Thank You Pages
Upsell Pages
Video Sales Letter Pages
Webinar Broadcast Pages
Webinar Registration Pages
Webinar Replay Pages
Step 2: Set your Funnel Name as well as Funnel Slug. Since you are creating a brand new funnel, you need to give it a name and slug.
Funnel Name: Can be anything you like. This will not be displayed to visitors and is merely for your own reference.
Funnel Slug: Give it a simple and easy to remember slug such as "leadgen" or "optin".
Step 3: Go ahead and drop your template by clicking "DROP IT IN".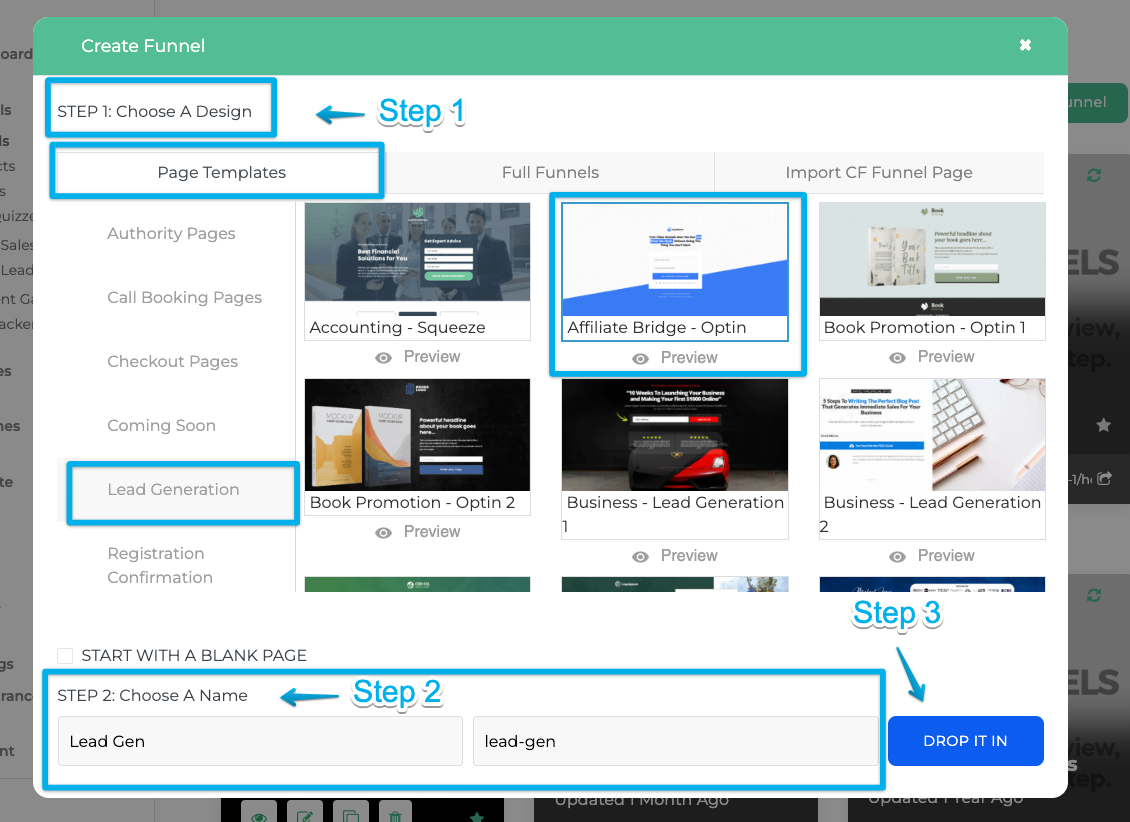 It will take a few seconds for the system to create your selected template. Once completed, you will be able to see your brand new funnel from your Funnels section as below: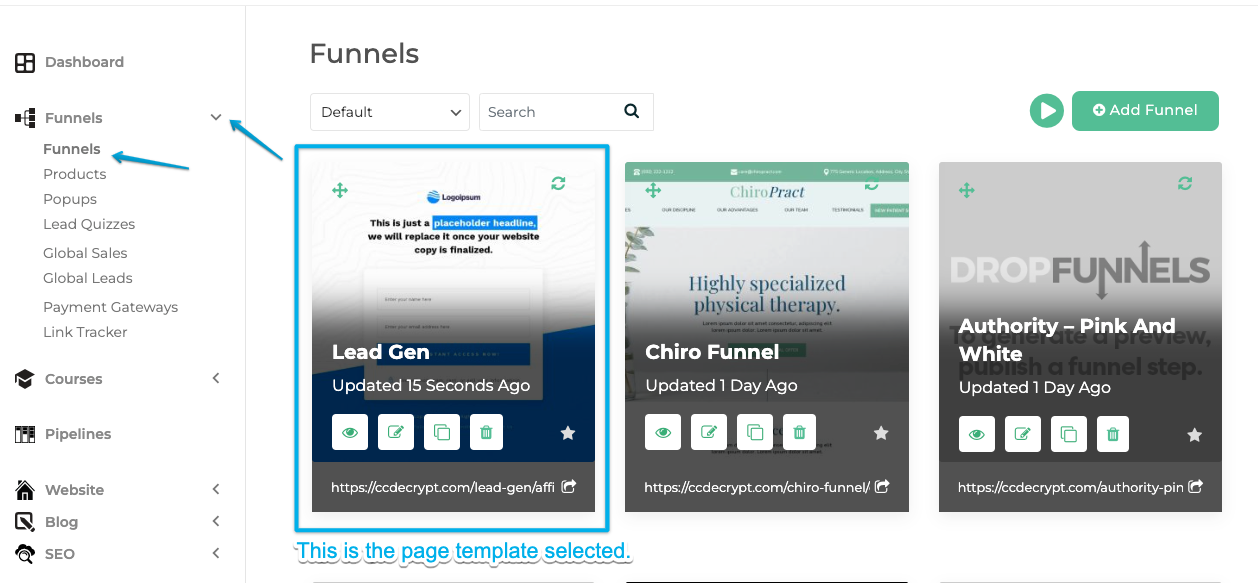 Full Funnel Templates
NOTE: The templates here are full fledged pre-designed funnel templates, which usually consists of several funnel steps that makes it a Full and Complete Funnel, ready to launch! 
For example, if you want to create an Authority Funnel to display your services and get leads at the same time, you can select variations of Authority Funnel templates. These usually comes with a Home Page, Optin Page and a Thank You Page.
You can even preview the design by clicking that Preview icon.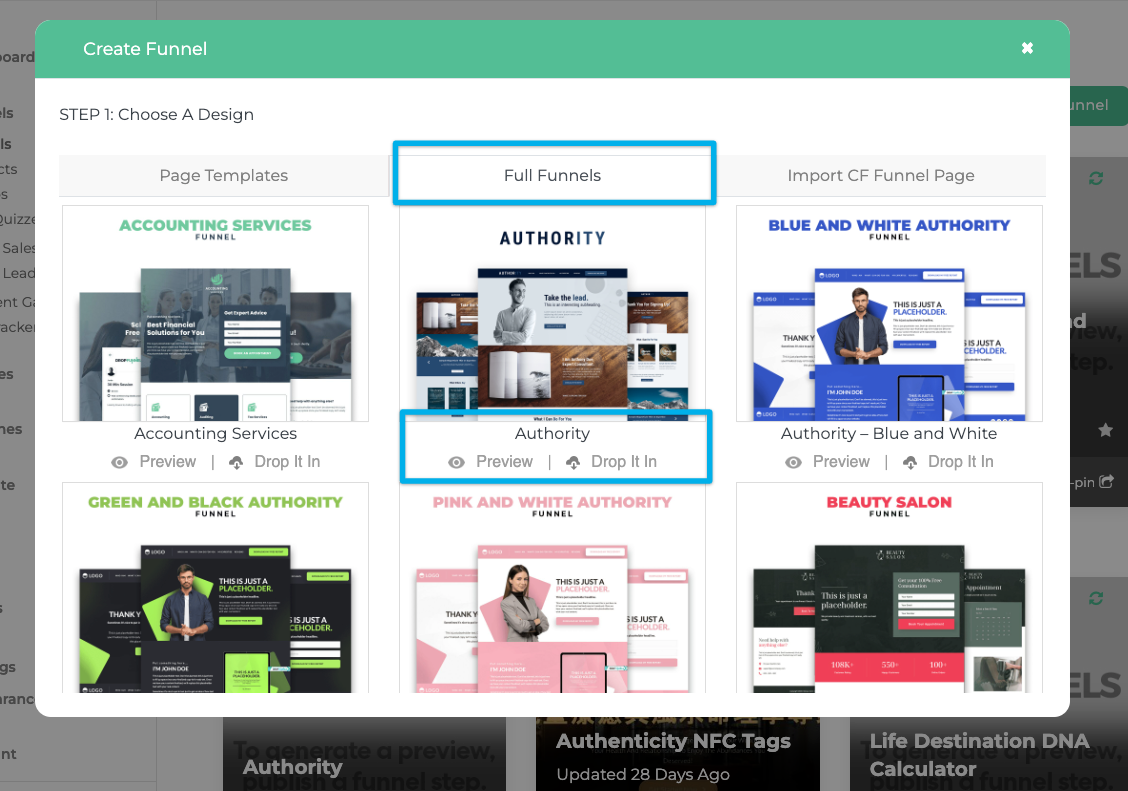 Step 1: Choose a design. Feel free to drop the full funnel if you like it by clicking that "Drop It In" button.
Step 2: Select destination site. After you click "Drop It In" , you will be redirected to a page where you need to select your Destination Site for your funnel template to drop. If you have multiple sites on your account, select one site that you will like the funnel to live, then click "Add Funnel"
Give it a few seconds to work, and a full funnel is now dropped under your Funnels section.

NOTE: In certain cases, after you drop your funnel template, you will be prompt to login to your DropFunnels account again. Do not panic! Just use your usual login credentials to login, and you will be able to select your destination site from your account.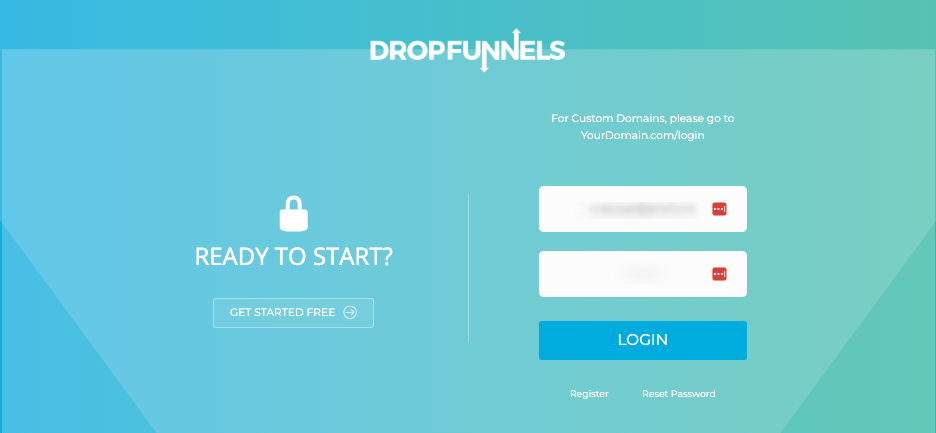 Adding a funnel step in an existing funnel
If you already have an existing funnel and wants to use a page template for your new funnel step, you can access the templates by adding a funnel step too.
The same process applies as how we walkthrough how to add Page Templates (Single Page) above.